Home | Forums | Terms & Conditions | Interesting articles | Video & Images | Email Us | Hindus Under Siege | About Dr.Swamy | Videos and Speeches
The problems with new registration of users have been SOLVED now. Thank you!.
About Dr. Subramanian Swamy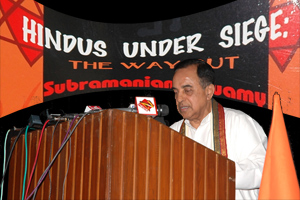 Dr.Swamy, born on September 15, 1939 in Chennai, Tamil Nadu, India is a widely known public figure in India having been elected Member of Parliament five times (1974-99) and held Cabinet positions in the Union Government twice, first as a Minister for Commerce, Law and Justice (1990-91) and later as Chairman with Cabinet rank of the Commission on Labour Standards and International Trade (1994-96). He also worked as Assistant Economic Affairs Officer, United Nations Secretariat, New York in 1963 and as Member of India's Planning Commission (1990-91).
Dr.Swamy has a long and continuing academic association with the world famous Harvard University (since 1962). He was awarded a doctorate in Economics by Harvard (degree conferred in 1965) based on his research with two Nobel Laureates Simon Kuznets and Paul A Samuelson. Dr.Swamy has also jointly authored with Professor Samuelson a path breaking study on Index Number Theory. Upon completing his Ph.D., the author joined the faculty of economics at Harvard (in 1964) and from then on he has till date taught at the Department of Economics for a total period of about 12 years. He is scheduled to teach in the Harvard University (Summer School) in July-August 2005 for a fifth consecutive term since 2001 – two courses titled: Economic Development in India and East Asia (Econ S-1316) and Quantitative Methods in Economics and Business (Econ S-110).
From 1969 to 1991, Dr.Swamy was Professor of Economics at the Indian Institute of Technology (IIT), Delhi from which post he resigned upon becoming Union Commerce, Law and Justice Minister. He also served on the Board of Governors of the IIT, Delhi (1977-80), and on the Council of IITs (1980-82).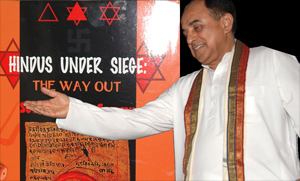 Dr.Swamy is a prolific writer. Besides numerous articles in journals, periodicals and newspapers, he is the author of ten books. He is proficient in many languages including Mandarin Chinese (Guoyeu). Dr.Swamy is widely regarded as an expert on the economy of China.
Dr.Swamy is nationally famous in India for his heroic struggle against the authoritarian imposition of Emergency (1975-77). He is respected for pioneering the normalization of relations with China, in persuading the Chinese leader Deng Xiaoping in 1981 to open the hoary Kailash-Manasarovar pilgrim route in Tibet. Dr.Swamy also campaigning for India's recognition of Israel. As Commerce Minister he prepared the blueprints for economic reforms subsequently implemented by the successor Narasimha Rao government of which he was also a part (1994-96). As Law Minister he is appreciated for his bold fight against terrorism in South India.
He is the President of the Janata Party since 1990 which party was founded by Jayaprakash Narayan in 1977 in the aftermath of the Emergency. Dr.Swamy is a founding member of the party. He is also Chairman, School of Communication & Management Studies, Kalamaserry, Ernakulam District, Kerala, (www.scms.com) and Life Trustee, Naveen Hindustan Foundation.
Other Links:
Janatha Party