Home | Forums | Terms & Conditions | Interesting articles | Video & Images | Email Us | Hindus Under Siege | About Dr.Swamy | Videos and Speeches
The problems with new registration of users have been SOLVED now. Thank you!.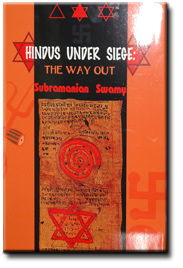 Hindus Under Siege: The Way Out
A book by Dr. Subramanian Swamy
Now available in India, USA and UK (see at end of this page)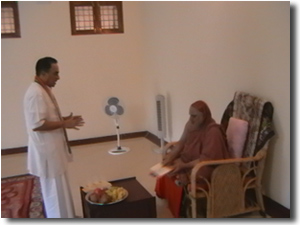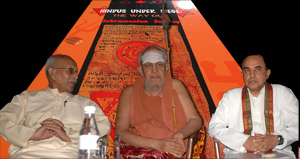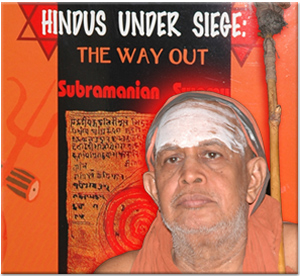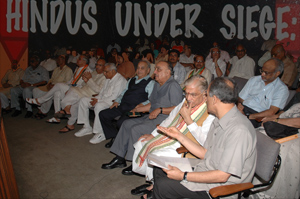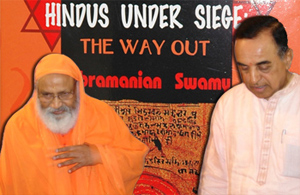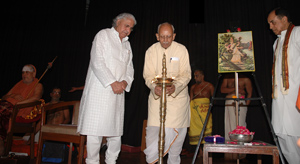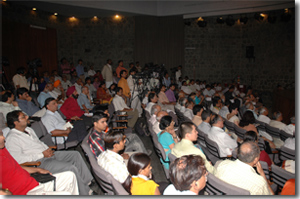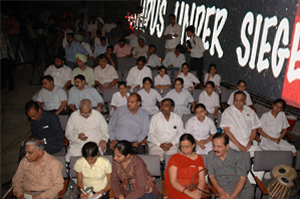 This book has been released with the Blessings of:
His Holiness Sri Bharati Tirtha MahaSwamiji of the Sri Sringeri Sharada Peetham,
His Holiness Sri Dayananda Saraswathi Swamiji of Arsha Gurukul Vidyalaya, PA,
and His Holiness Sri Jayendra Saraswathi Swamiji of the Sri Kanchi Kamakoti Peetham.
This book has been released in India on 18th September 2006, by RSS Sarsanghchalak Sri K S Sudarshanji. The book was also blessed at the holy Brindavanam of His Holiness PujyaSri Chandrasekharendra Saraswathi Mahaswamiji on 10th August 2006, the Jayanthi Day of His Holiness Sri Jayendra Saraswathi Swamiji.
The author argues that, over the coming millenium, Hindus run the risk of perishing like the ancient Greeks, Egyptians or Babylonians. He also states that Hindus are under a siege because they are being targeted by four different factors:
By clandestine defamation of Hindu icons and symbols
Dr. Swamy points out that the arrest and jailing of the venerated Shankaracharya of Kanchi Kamakoti Mutt, as the Supreme Court has held, in a murder case case that had no prima facie basis; The attempted take-over of the Tirumala Tirupati hills for anti-Hindu activities; Denigration of the holy song "Vandemataram"; are examples of clandestine defamation; Outside India, Hindus have been for long denigrated in Pakistan, Bangladesh, Saudi Arabia, Fiji, and increasingly in Indonesia and Malaysia by the state
By demographic restructuring of Indian society
Dr. Swamy states that Hindus have suffered wherever and whenever they are in a minority, and also hurt even where they are in a majority because of the caste divisions. In Kashmir valley, a Muslim majority area, the Hindus have been driven out to become refugees in their own country. In Mau in UP, Hindus are in a large majority but divided, therefore the 35 percent Muslim population are able to deny religious rights to Hindus such as taking out processions during Ramnavmi or other occasions. In Kerala, despite being 53 percent, Hindus represent less than 25 percent in most institutions and commercial establishments. Hence, the continuing fall in Hindus' share as a proportion of total population, caused due to deliberate illegal Muslim immigration from neighboring countries, induced conversion activities of foreign Christian missionaries, and differential acceptance of family planning by religious communities may make Hindus a minority in India before 2090 AD.
By terrorist activities directed exclusively against the Hindu community
Dr. Swamy points out that all terrorist activities within India are directed against Hindus, whether in timing of the attack, choice of target, or method of operation. About 99.3 percent of all victims in terrorist killings since 2001 have been Hindus.
By systematic and continuing distortion of India's history
Dr. Swamy stresses that this is to create the impression in young mind that India is not an ancient nation of Hindus, that Hindu heroes and heroines were "cowards ", that India is of two races: Aryans and Dravidians, that caste is a concept based on race and birth, etc., to make future generations despise their thus contrived Hindu legacy.
The author suggests that if Hindus want to put a stop to all this and lift the siege, then Hindus must develop a Hindu mindset in addition to being individually good Hindus of piety. Dr. Swamy states that in addition to observing Hindu festivals, going to temples regularly, or doing pujas at home everyday the Hindus need a collective mindset and corporate identity. This is what Chankaya had centuries ago termed as the concept of "Chakravartin'.
Dr. Swamy has prescribed five fundamentals for defining this concept in the modern context.
An Indian's national identity is Hindustani
Every Hindustani must commit to either learning or ensuring the future generations compulsorily learn Sanskrit
Hindustan's democracy should be secular but that which is enlightened
All citizens of Hindustan must strive to make India a global economic power
Hindustan should integrate
Read the book for more…
Purchasing Details
Place
Cost
E-mail
Phone
India
Rs. 250
haranand at rediffmail.com
11-416 03490 (Delhi)
USA
$10
shipping included
kksfusa at hotmail.com
(516) 938 0990
UK
£5
hus at kanchiforum.org
(44) 789 197 6349
Note: In the above email addresses remove the spaces and replace at with @. Please contact us if you need further information.Please help support the Hindu Cause by helping us to promote this book. Do contact us to know more.
Some Interesting Links
Book Release in New Delhi:
Photo Gallery
Video excerpt coming soon!
Book Release in NJ: (includes photos of sale of books in other locations across USA)
Sri Kanchi Kamakoti Peetham
Interesting press releases from kksfusa.org
kanchi-sathya.org: Your source for authentic information
Upcoming sales events:
15th October, Sunday, at London
Book release in Tamil, on 3 November at Chennai. More details will be available soon.
Books will be available in the following events in USA:
Shatabdi Celebrations at Tampa, FL see here for details
Music Concert of Maharajapuram Ramachandran at LI, NYC : Details
Satyameva Jayatey!
Truth Alone Triumphs!